Whilst out in town today I happened to be in Leicester Square where the premiere for the new Wallace and Gromit movie, "Wallace & Gromit: The Curse of the Were-Rabbit" was happening.
Normally premieres are attended by the stars of the film. Clearly with a cartoon, this is going to be a bit tricky. I was most amused to see that Gromit did in fact put in an appearance.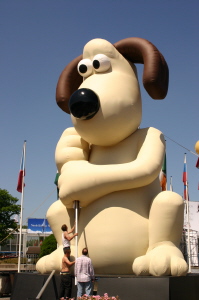 This picture was taken by someone else in Amsterdam, but I think is the same Gromit who made it to Leicester Square. I didn't have a camera with me, otherwise I'd have got some shots of him. Notice how big the people in the picture are? This Gromit is inflatable and stands 9 metres (or 30 feet) tall.
I was quite tickled by the idea of a giant inflatable Gromit. Especially because he was so impractical. He took up a whole side of Leicester Square and was the same height as the buildings around him. Quite a strange sight in the middle of town.
It got me thinking - Who made him? How did they design him? How did they get his ears to stick up? How did they stop him blowing away or falling over? How much did he cost? Where can I get one? How big does he fold up and could I install one on my car roof? What are they going to do with him once the film's done? Are they going to make a Wallace to match? He'd be enormous!
Can't say I'm a determined W&G fan. I just wanted to put a giant Gromit on my site. I think they are fun, though, and really enjoyed their short films. "Wallace and Gromit: The Wrong Trousers" is a highly entertaining little film. I've put the new film on my "To View" list after "Pride & Prejudice" which is scheduled at the top of the list.
The official "Wallace & Gromit: The Curse of the Were-Rabbit" site is here.